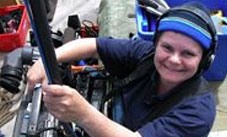 Mylene has been in the film industry since 1985 initially as a camera/sound assistant. In 1993 she went full time as a field sound recordist working on a wide range of local and international productions. As a specialist she records sound on commercials, feature films, factual shows, corporate videos, studio based programming, live television broadcasts and film shorts. As a female sound recordist, she gives productions a distinct advantage on a range of projects and when filming sensitive issues.
Mylene's diverse experience, gained from working on film assignments in Australia and Internationally, has given her excellent credentials in general documentary field recording, science programme making and the recording of presenter led stories. Her early experience working in the fast action world of news and current affairs, gives her the ability to adapt swiftly to the ever changing requirements of field production work. She personally owns and maintains a comprehensive selection of sound equipment and audio accessories enabling her to deal with most audio situations encountered on location.
Mylene often takes on the role of Production Manager, Researcher and Production Coordinator for visiting international film crews. In conjunction with Sea Films Pty Ltd, she supplies the industry with personnel, camera and sound equipment and organises accommodation and crew transport across Australia and the region.