The Australian Tarantula is a much more aggressive spider than the South American Tarantula. The Australian tarantula is also known as the "whistling spider" or "the barking or bird-eating spider".  In this film spider expert Dr Robert Raven guides us through his mission to find, identify and protect new species. This global adventure discovers the secret lives of these giant spiders and explores their rising popularity in pet and food markets worldwide. Filmed with every intricate detail of the spider's existence captured, this fast paced, fun and educational documentary leaves no stone unturned and is recommended to kill or cure any phobias you may have.
Produced by Kaufmann Productions, Australia
In Co-Production with WDR/Germany & ARTE
In Association with CBC, Canadian Broadcasting Corporation.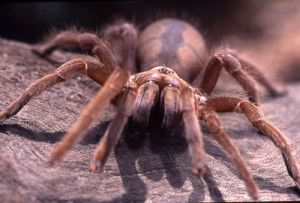 Additional Awards for Tarantua
Best of Festival SCRIPT
Best of Festival SCIENTIFIC CONTENT
Merit Award for GRAPHICS & ANIMATION
Merit Award for EDITING
Merit Award for PHOTOGRAPHY
Merit Award for SCIENTIFIC CONTENT
Merit Award for EDUCATIONAL VALUE
IWFF - International Wildlife Film Festival
USA, April 2005
Gold Award
Best Nature & Wildlife Film
World Media Festival
Germany, May 2005
Best Documentary Science, Technology & the Environment
ATOM Awards
Australia, October 2005
Gold Award Best Wildlife & Nature Film
ACS (Australian Cinematographers Society) State Awards
Australia, November 2005
Best International Science Programme - Finalist
43rd International Festival TECHFILM
Czech Republic, November 2005
Bronze World Medal Nature & Wildlife
New York Festivals
USA, January 2006
Best Nature Documentary - Finalist
FRAPNA: 20th International Nature & Environment Film Festival
France, April 2006
Golden Tripod Best Wildlife & Nature Film
ACS (Australian Cinematographers Society) National Awards
Australia, May 2006
Gold Camera Award
Best Documentary 30-60 minutes
US International Film & Video Festival
USA, June 2006
Best Science Documentary - Finalist
IMAGE & SCIENCE Festival
France, October 2006
Best Investigative Science Documentary
24th Biennial International Scientific Film Festival
Spain, November 2006
Special Jury Award
Nature & Environmental Documentary
NATURALE – 20th International Nature Film Festival
Germany, April 2007