Polynesian sea gods, a mysterious snake (found only in the waters surrounding the small Pacific island of Niue) and a young scientist collecting its fatal venom. The result is the intriguing film "Sea of Snakes". A thrilling journey to seek out the planet's most isolated venomous sea snake: the Niue Sea Krait. This mysterious creature has never been captured on film and to this day remains virtually unknown to the world. "Sea of Snakes" reveals the serpent's secrets, glimpses it's powerful gods and discovers how this unique species has extraordinarily adapted to life at sea and on land.
Produced by Kaufmann Productions, Australia
In Co-Production with WDR/Germany & ARTE
In Association with National Geographic Channels International.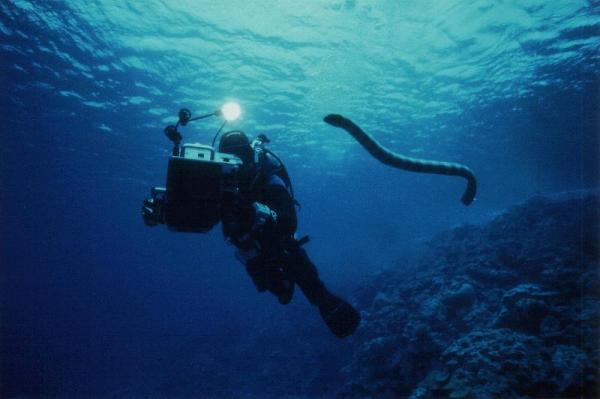 Merit Award Underwater Cinematography
IWFF - International Wildlife Film Festival
USA, April 2003
Best Underwater Documentary - Finalist
Japan Wildlife Film Festival (JWF)
Japan, August 2003
Gold Award Best Wildlife Documentary
30th World Festival of Underwater Pictures
France, October 2003
Best Nature Documentary - Finalist
35th International Festival of Maritime Films
France, October 2003
Gold Award Best Nature Film
ACS (Australian Cinematographers Society) State Awards
Australia, November 2003
Best Professional Underwater Production
7th International Underwater Film Festival
Serbia, December 2003
Silver World Medal Nature & Wildlife
New York Festivals
USA, January 2004
Best Nature Documentary – Finalist
3rd WAGA Brothers International Festival of Nature Films
Poland, March 2004
Gold Award Nature & Wildlife Films
World Media Festival
Germany, May 2004
Award of Distinction Wildlife & Nature Films
ACS (Australian Cinematographers Society) National Awards
Australia, May 2004
PANDA Award – Finalist
Animal Behaviour
Wildscreen Film Festival
UK, October 2004
Best Nature Documentary – Finalist
Best Documentary Southern Hemisphere – Finalist
WildSouth International Film Festival
New Zealand, April 2005
Best Feature Documentary – Finalist
Celebrate the Sea Marine Festival (CTS)
Singapore, April 2006